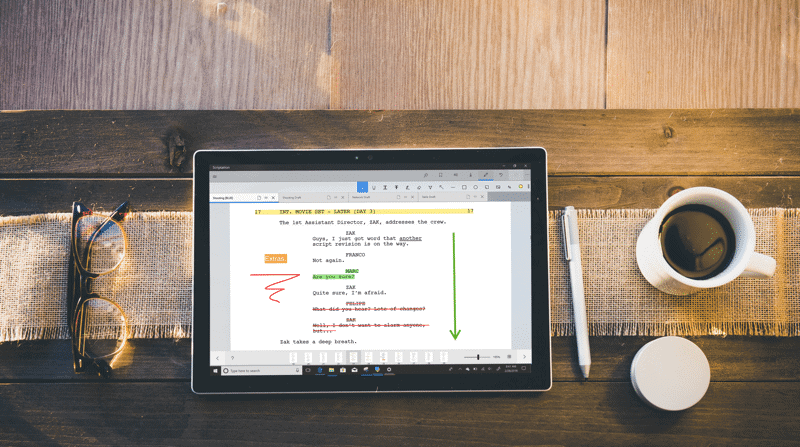 Microsoft Developers | Scriptation helps shift entertainment industry off paper scripts
This article was originally published by Microsoft.
Though the viewer never sees it, countless script iterations go into watching an actor deliver the perfect line. Every aspect of TV and movie productions is laid out in scripts, which, as filming gets underway, are rewritten, rearranged and reprinted. For a 30-minute TV episode, crews can churn through thousands of sheets of paper daily.
Enter stage right, Scriptation—an intuitive, script-revision solution that's fully digital. The app leverages Ink and Fluent Design with Windows 10 to provide a paperless experience for Hollywood. The Note Transferring feature in Scriptation allows crew members to mark up a script in the app, and when a new version is sent out, Scriptation transfers every note to its corresponding location in the new draft, in seconds.
"We interviewed members of every production department to see what it would take to make the switch to digital," said Steven Vitolo, CEO and creator of Scriptation. "When I explained the concept of Note Transferring, every user was on board."
"Fluent Design brings incredible visual reactions: transparent textures, acrylic materials, and responsive layouts. In the end, Fluent Design and Ink enabled us to create a better-than-paper solution that finally got production crews to go digital."

—Felipe Mendez, CTO of Scriptation
Annotating scripts made easy with Ink
Scriptation empowers crews with efficient note-taking by leveraging the Ink capabilities of Windows 10. While viewing scripts as PDFs, crew members use a stylus or their fingertips to write notes, draw, highlight, and add free text. The app also allows users to attach images and voice recordings.
An entire production team benefits from these annotation tools: Directors can make notes and sketch drawings, writers can pencil in alternative jokes, and prop masters can highlight props they'll need for a scene. These annotations can also be customized just for the individual. Using the Actor Highlighting feature, actors can easily highlight lines throughout an entire script with the tap of a button.
Using Scriptation on a Surface allows production teams to utilize the Surface Pen and Dial. The Surface Pen enables effortless markup, as users can strikethrough words similar to the way they would intuitively cross things out, and circle text that can be attached to handwritten notes. Using the Dial in one hand and the Surface Pen in the other, users can easily access shortcuts, controls, and tools. The Surface Dial can be used to scroll through script pages, undo/redo annotations quickly, and toggle through annotation colors.
"I've been wanting to go digital for years, but it wasn't until Scriptation that I could," said Billions actor Rob Morrow. "As an actor and a director, I'm fastidious about marking up my scripts. Using Scriptation with the Pen makes it easy to go paperless. Not only is it simple and intuitive, but it's incredibly fun to use."
Modern UI constructed with UWP and Fluent Design
Removing paper from the script-revision equation not only enables efficient note-transferring across script versions, it also allows users to access scripts from any device. In Scriptation's update to UWP, developers leveraged adaptive layouts of Windows 10 to dynamically change the UI in response to different screens or window sizes. For instance, when users access Scriptation on a large screen, the app adjusts its interface elements to make better use of the screen real estate. When it reaches small resolutions, the app responds with a completely different UI design tailored to the condensed screen or window size.
"We took advantage of the built-in break points for responsive design in UWP," said Felipe Mendez CTO of Scriptation. "We know that crews will access scripts on everything from tablets to desktops—working at home and on sets—so Scriptation has to look and function the same across all devices."
Scriptation developers leveraged Windows 10 Fluent Design to easily integrate modern features into the mixed device ecosystem. The Fluent Design System for UWP is a set of features and guidelines that influence the appearance, behavior, layout and scalability of apps across devices. Fluent UI features like light, motion and depth combine to enable compelling and intuitive experiences.
"UWP is a great tool to develop powerful apps, and Fluent Design made Scriptation even better," Mendez said. "The features of Fluent Design are built into UWP, which makes it incredibly easy to implement and the results are stunning."
Fluent Design allowed Mendez and his team to create user interfaces that adapt to any screen resolution, while maintaining a stylish and dynamic look, all with just a few lines of code. As a result, Scriptation on Windows 10 merges the best of paper scripts with the ease of digital. For instance, using the Acrylic feature, the Scriptation team incorporated a physical texture and depth for a seamless user experience.
"Fluent Design components bring incredible visual reactions: transparent textures, acrylic materials, and responsive layouts," Mendez said. "In the end, we were able to achieve a bold and modern UI that incorporates light, depth, movement, and material for our Windows users."