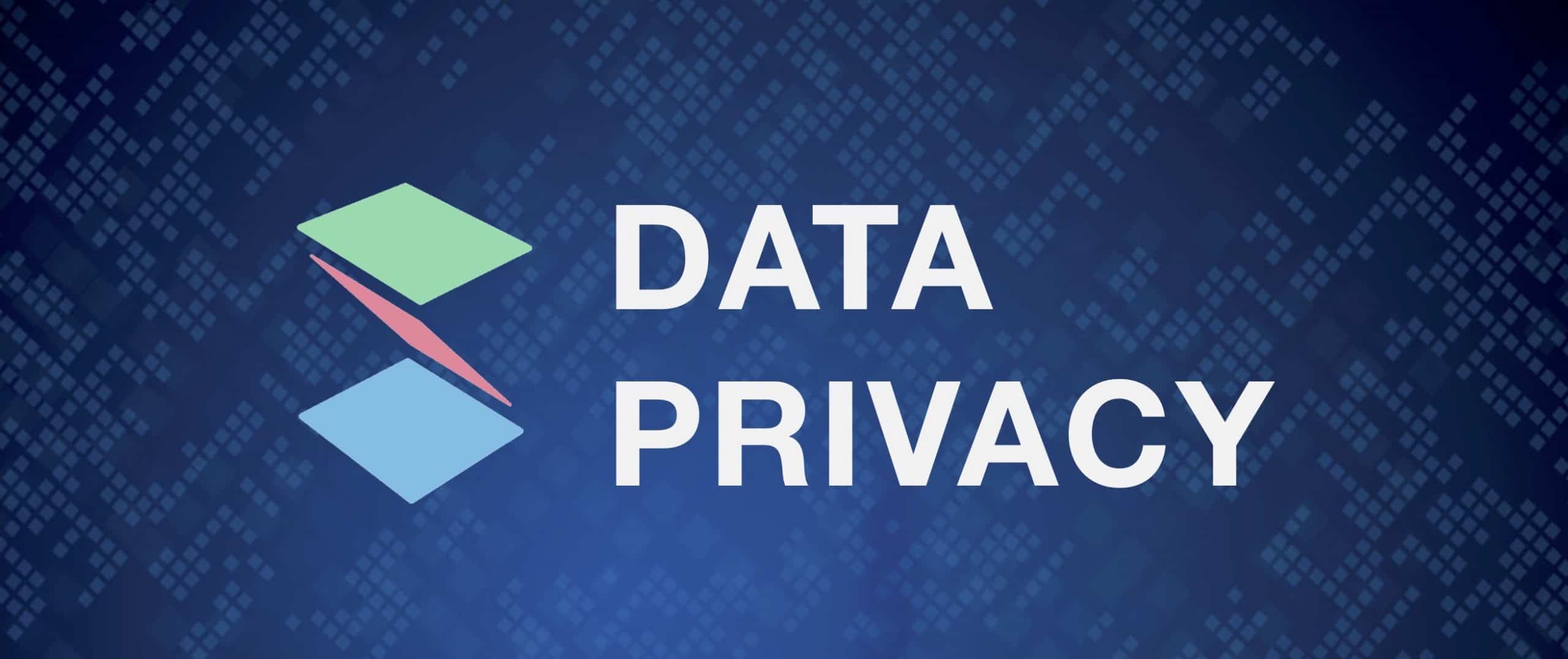 Data privacy for you and your scripts
Productions put trust in every person who gets a script, and when you use Scriptation, that trust extends to us too. That's why we're proud to be one of the only digital production apps that does not track personal data, does not store any files on our servers, and keeps the little information that we do have completely anonymous. It's these very practices that have led Scriptation to being approved for use at just about every major studio!
As of last month, apps are required to show details about data privacy right on their App Store product page. What you'll find after looking at a few apps… There are stark differences in how different apps operate. We think this transparency is a great thing, so we're setting the record straight on exactly what data we collect, how we do it, and why.

The nitty gritty on Data Privacy
Through Apple's developer infrastructure, we collect a bare minimum amount of completely anonymous data that allows us to continue providing a successful and functional app. We collect three (and only three) things…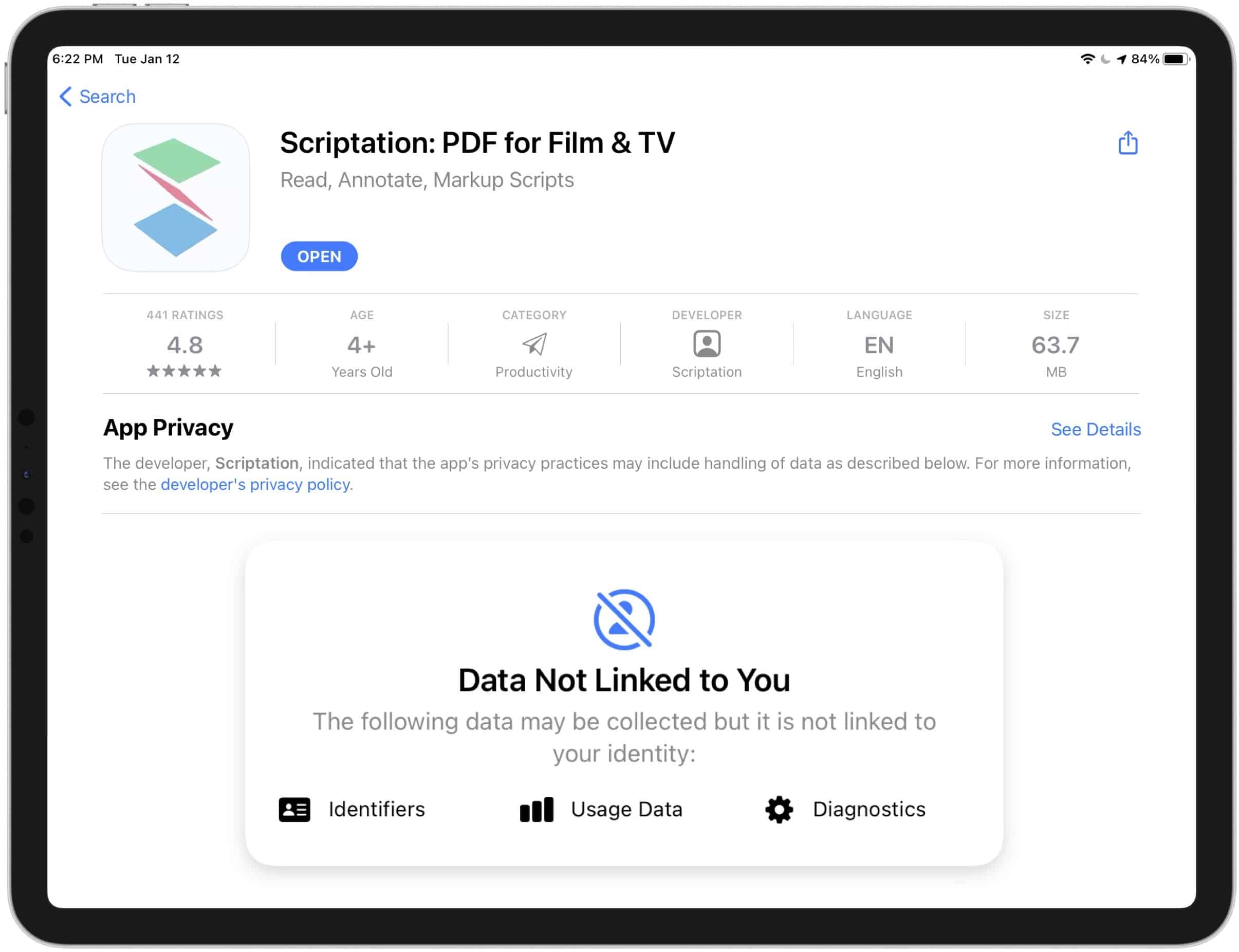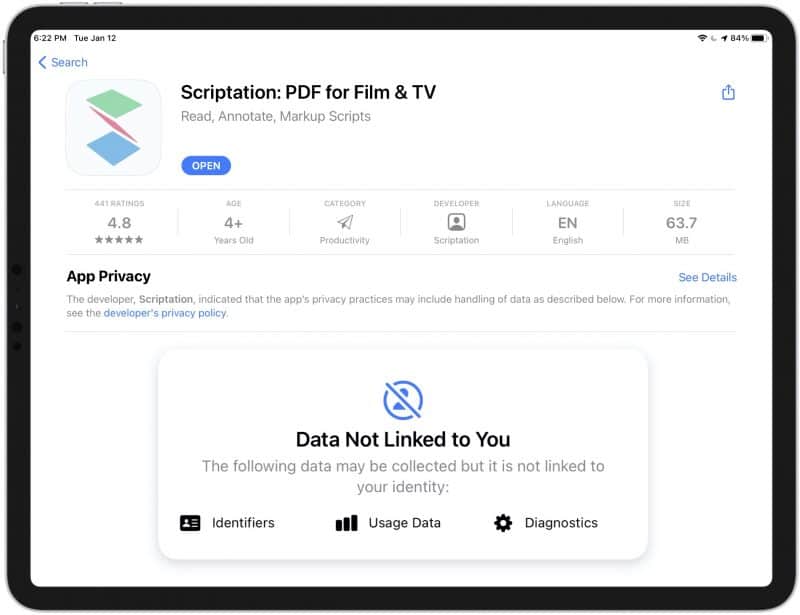 Identifiers: Anonymous Device IDs (as assigned by Apple) are a necessity of App Store subscriptions. Apple uses this ID to ensure that your device is connected to an active subscription. In no way can we use this ID to trace a device back to an individual.
Diagnostics: Anonymous crash reporting data is critical to ongoing app improvements. If any user experiences an issue within the app, this info provides us with the strictly technical details to fix it.
Usage Data: Anonymous details of product interaction provides details about which features are most popular, and should be considered for further development. Specifically this means counting button taps on features within the app, so we can confidently say things like "Nearly all of our users are using Note Transfer. Let's make it even b

etter!"
It's important to understand that none of this data can be linked back to you. For example, if you highlight a word, we know that some user, somewhere, highlighted a word. But we have no idea what word was highlighted, or within what script file the highlight occurred.
This is because with Scriptation, individual users do not create usernames or passwords. Whenever other apps require you to log in – it's that very process that links data back to you.

What about File Security?
We know that many of our users work on content-sensitive productions where file security is of the utmost importance. Rest assured that Scriptation does not have access to any PDF files you open or annotate within the app. It doesn't matter whether the file is saved on your device or in the cloud – we can not access it.
This is because we are also one of the only apps in this space that does not store files on company servers, nor do we have any independent server that syncs files between devices or over the cloud. We leave that to the professionals.

Team + Team Studio
For users with Team and Team Studio accounts, Scriptation functions the same way. Even if an employer is paying for your account, no one at Scriptation or your production company can see your files, or "remote in" to your device. This is because all users of a group license use the same activation code, not individual usernames and passwords.
While Team and Team Studio account managers do have login credentials for an admin web portal, this is entirely separate from the app. This basic web page is used for account management purposes only, such as service cancellation, upgrade, and viewing available activations. It does not hold any user data.
One final note: The single instance where Scriptation has to transmit data over servers is for Team and Team Studio users collaborating with Live Layers. In this case only, annotation data contained within user-selected shared layers is temporarily stored on our servers as a necessity of the sharing infrastructure. From a technical perspective, this data is submitted through an AWS server using AES256 encryption. We never store – and cannot access – the PDF documents that are connected to the annotations.

Want to learn more?
Our complete Privacy Policy can be found in the App Store.
And if you want to see just how seriously we treat personal data, take a peek at the "App Privacy" box on some other popular apps.