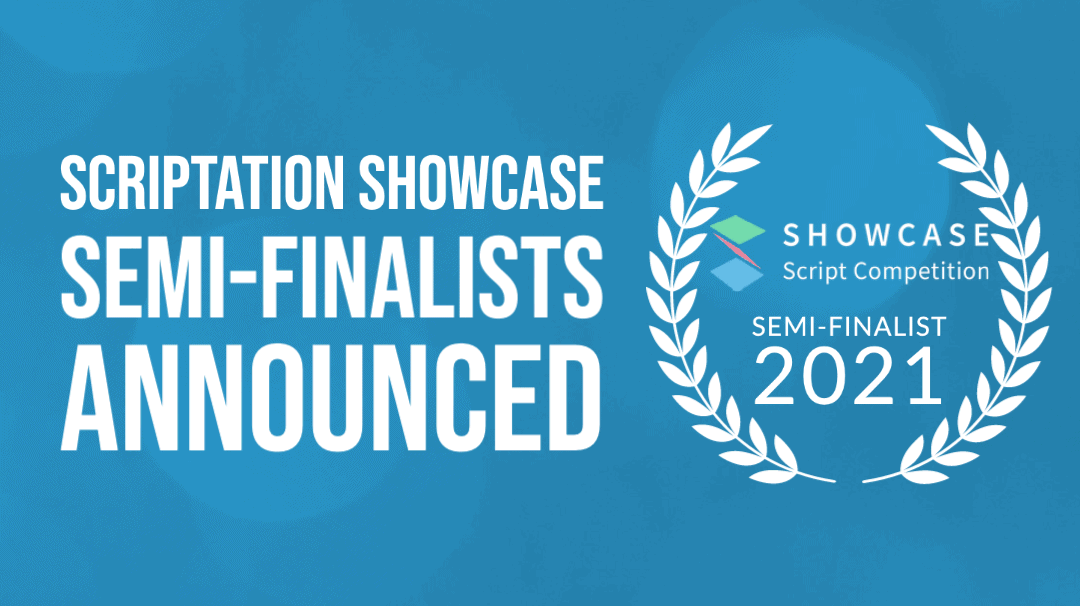 Scriptation Showcase Script Competition Announces 2021 Teleplay Semi-Finalists
The Scriptation Showcase is pleased to announce its 2021 semi-finalists for the Teleplay category! Congratulations to these talented writers and thanks to everyone who submitted this year.
Comedy Teleplay
Bastards by Erin Muroski
Black Men Waiting by John Lowe
Blue Mustang by Sam Robotham
Bucky Johnson by James Barnes and Garrett Vanderwielen
CANCELED by Ben Bagli
Cora's First Day by Ashley Parker
Deep Yearning by Galia Barkol and Noelle Wilson
Exposure by Michelle Aldridge
Forever Farms by Dana Sayles
From Top to Bottom by Matt Seiiji Ketai
Game by Erin Muroski
GHOST HOTEL by Noelle Wilson
Ghost Light by Ian Mather and Anne-Marie Trabolsi
Girl Dads by Jim Kozyra and Rammel Chan
Home by Bryan Kelsey
InFirm by Carolyn Bridget Kennedy and Richard J. McRae
MUNCH by Erin Muroski
New Bunkerville by Alex Diedrick
No Homo by Nicholas Gutierrez
Phelandra by Jonathan Marballi
Pigeoni's Pizza by Michael Tannenbaum and Louie Aronowitz
Pilots Episode 1: Chastity High by Ian Mather and Anne-Marie Trabolsi
Point Game by Wayne Phillips
Side Quest by Michael Tannenbaum and Louie Aronowitz
Superfreak by Sierra Hall
The Savior by Tommy Bechtold and Dan McNeill
The Strip by Kevin Engelking
The Sub by Michael Lucid
The Ties That Bind by Haley Dercher
They Took My Boyfriend by Isabella Roland
Wolfe Pack by Lindsay Heiman
Drama Teleplay
A Coven of Thieves by Eugene Ramos
Antillia: Conquest Gold by Jason Todd
At The Displeasure Of The President by Brian Cohen
Blind Mice by Aaron Milus
Cavalier by Sydney Painter
Control

by Robbie Brown

Dean & Delany by Tricia Horvath
Devil's Lake by Jay Fisher
Doomsday Clock by Dena Hysell-Cornejo
Everyone Dies Alone by Mad Matthewz
Final Appeal by John Thibault
FOX HUNT by Nicole Delprado
Hell's Country by Ben Miller
Hidden Blood by Seda Anbarci
HOMECOMING

by Rae Binstock

Hot City

by Kris Hall

LAX by Brit Taylor
Losing Hope by Jad Jacob
Making Magic by Robert Mellette
Man On Fire by Vikas Bandhu
Man-Eater by Kelsey Grier
Modal by Kyle Jutkiewicz
One Among the Aftermath by Alan Nero and Karlene Previl
One of the Fallen by Khadijah Iman
Outrider by Faye Upton
Real Housewives Slasher Project by Sydney Painter
SEPARATION by Mark ONeill and Jonathan Ross
Shango by Martyn Eaden
Shenanigans by Monique Greer and Boisha Wofford
Sun Woman, Moon Man by Lyndal Simpson
Sweet Girl

by Dawn Cowle

Tanglewood by Sara Bartel
The Empath by Steve Brown
The Great Danes by James Gaffney
THE NUT FARM by Warren Clarke
The Songstress by Kuros Charney
The Youth by Al Kalyk
Travelers of The In Between by Gregory Pricoli
TWEAK

by Taryn Procsal

Winning by Cherice Hunt
Stay tuned for the upcoming announcements of the winners by subscribing to our newsletter and following our Instagram, Twitter, and Facebook pages.