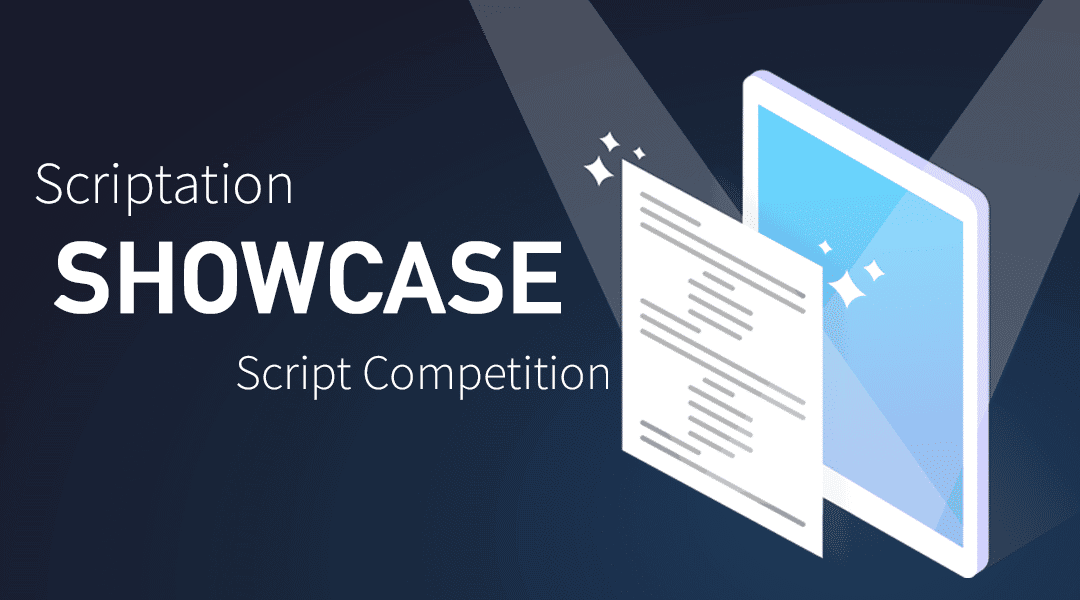 Scriptation Showcase Script Competition Announces Semi-Finalists
The Scriptation Showcase is pleased to announce its 2019 semi-finalists! Congratulations to these talented writers and thanks to everyone who submitted this year.
The 2019 Scriptation Showcase semi-finalists are:
Comedy Screenplay
Adam to Eve by Kadir Cizreliogullari
Art Appreciation by Mark Provencher and Jennifer Titus
Hit Escape by Mark Reynolds
Hooked by Julie Zeilinger
Lavender Lights by Sam Cavalcanti
Law of Enchantment by Ross Crown
Love Takes Time by Carl Lord and Vin Morreale, Jr.
Sequoia Blue by Josiah Signor
Seven Devils by Theodore James
The Second Half by Phyllis Cohn
The V Club by Steven Bolia
Drama Screenplay
A Waking Nightmare by Ryan Shovey
Champagne And Grits Don't Mix by Joe Madalena
Combustion

by Craig Oliver

Cracked by Gus Avila
Glitches by Kelly Beck-Byrnes
GOLDEN by Cheryl Boyles
In the Flat Field by Dylan Rosychuk
Italian Summer by Philip MacKenzie
Psych 101 by Sid Jabery
Six Sons of a Bitch by Connor Weber
Sweet Eve by Giovanni Basso
Talbukja (Defector) by Dustin Sohn
The Beast by Elbron Eramia
The Judge by Mitch Steinman
Vincent the Vegan Vampire by Tomas Decurgez
Comedy Teleplay
Adullhood by Vadim Egoul and Caleb Graves
Available Joy by Michaela Myers
Chosenville by Jessica Kane
Damned by Chip Johnson
I See You by Michael Corleone
Lance Herostar's Space Adventures… in Space! by Pete DAlessandro
Neckbreaker by Pratima Mani
Only the Good Die Young by Jordan Clief
Patient by M. Rowan Meyer
Suddenly Cinderella by Hope Tarr and Kendell Shaffer
Sweet Jesus by Pete DAlessandro and Brian Erice
THE RIDE by Key Payton and Robert L. Johnson
The Substitute by India Daughney
The Witch That Got Away by Colleen Glennon
Wives of Willoughby's by Maria Carolan
Drama Teleplay
#BASH by Richard Anderson and Ruben Nino
Badass by Kelly Beck-Byrnes

All Mexican-American by Fernando Viso
Code.7390 by John Gilligan
CHRISTINA ON-CALL by Corinna Mendis

Deceit by Samantha Van Sickle, Daniel Martindale, and Alicia Rosato
Man Eaters by Alexandra Mackey
Mawashi Man by Joshua Sackheim
Mecharena!! by John Padden
Murder Mystery Party by Zack Redmond
Personal Jinx by Eric Gladstone and Juan Bayardo
Red Geyser by Michael Salomon
Serf by Liz Cotone
Survival of the Fittest by Jaclyn Parker
The Bliss Killer by LeLe Park
Short Script
The Last Creation by Brad Cooper
Capsule by M. Rowan Meyer
Code Switch by Quamé Hamlin
DEATH OR INSANITY by S.A. Slosberg
Dragonfly by Julia Morizawa
Happy Birthday! by Allan West
How The Other Half Live by Michael Kitlas
The 3 Finalists in each category will be announced on October 15th. The Grand prize winner, and the Best Overall Screenplay, Teleplay, and Short, will be announced on November 1st.
Stay tuned for the upcoming announcements of the winners by subscribing to our newsletter and following our Instagram, Twitter, and Facebook pages.