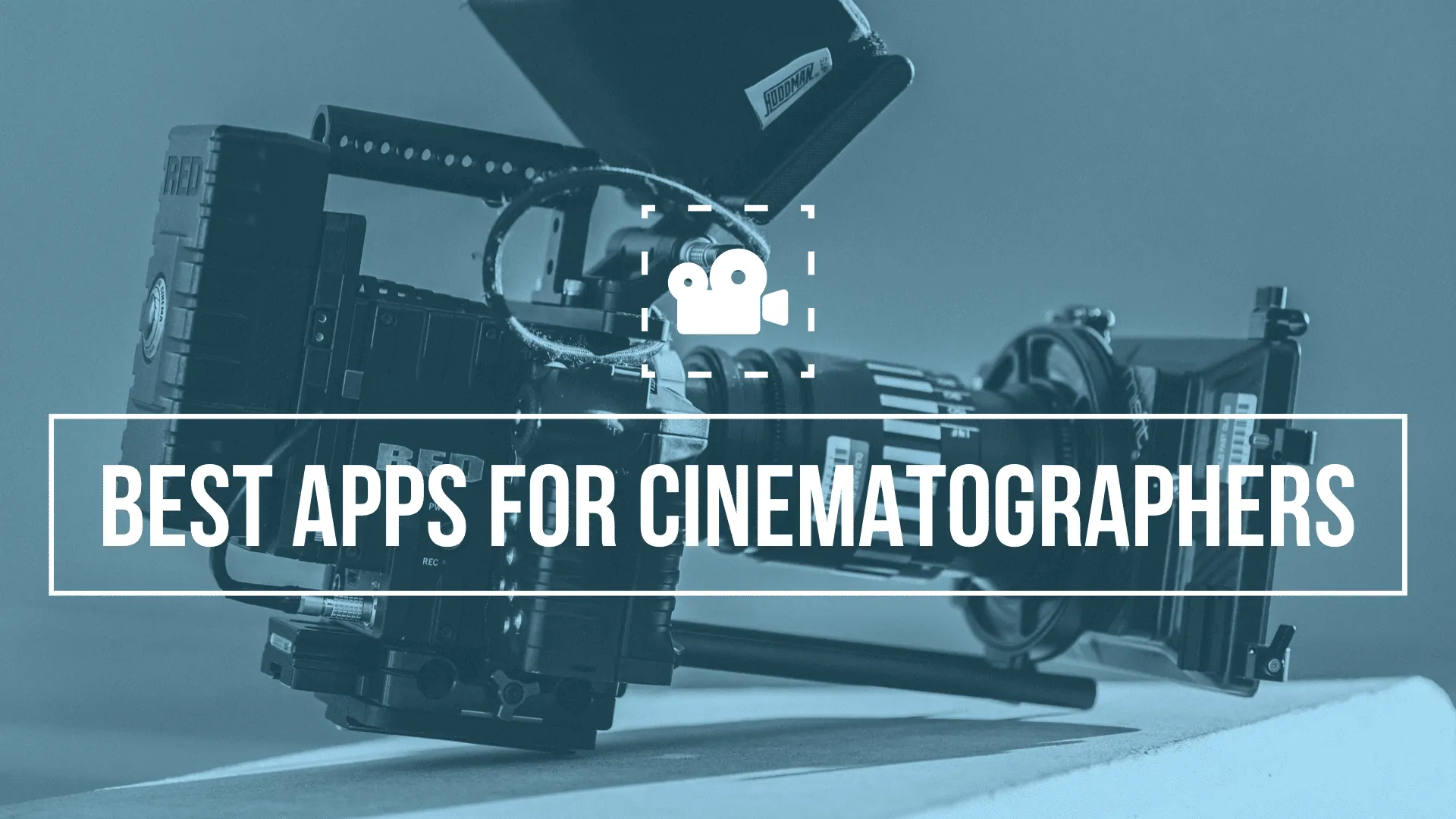 The Best Apps for Cinematographers in 2022
Rather than lug around a bunch of separate tools in your gear bag, you might find exactly what you need right in the App Store. From organizing shot lists to sketching floor plans to finding reference photos and more, here are the best apps for cinematographers in 2022.
BEST APPS FOR CINEMATOGRAPHERS
Shot Deck boast that it's "The Industry's best research tool" and we can see why. They have a massive online library of high-definition movie images that's fully searchable by color, mood, location, genre, frame size, event the camera that was used, and more! ShotDeck is an incredible resource to get inspired, pull reference photos for your next shoot, and build decks for projects.
Price: $12.95 per month
BEST APPS FOR CINEMATOGRAPHERS
Scriptation is the Emmy® award winning app annotation app used on thousands of productions worldwide, and you can get started for free in the App Store.
Scriptation allows you to read and make notes on your script with a wide range of customizable annotation tools. Insert shot lists, floor plans, storyboards, reference photos, and more directly into your script. Not only that, but Scriptation can transfer those notes into new script revisions so you never have to recopy your notes again.
Scriptation is designed for organized collaboration. Share notes, highlight lines, bookmark scenes, and separate annotations conveniently into layers.
As one App Store reviewer advised emerging filmmakers: "I guarantee this app becomes standard on set." So be prepared to use it on your next big production.
Try out Scriptation's free script annotation app and see for yourself.
Price: Free
BEST APPS FOR CINEMATOGRAPHERS
Shot Designer promises to make it "ridiculously easy" to block complex scenes. Shot Designer strives to be the ultimate film app for directors by combining camera diagrams, shot lists, storyboards, and animation all in one place. And, everything you create is inter-connected. Any changes you make in the diagram update the shot list, and any changes you make in the shot list change the diagram, and so on.
Price: $19.99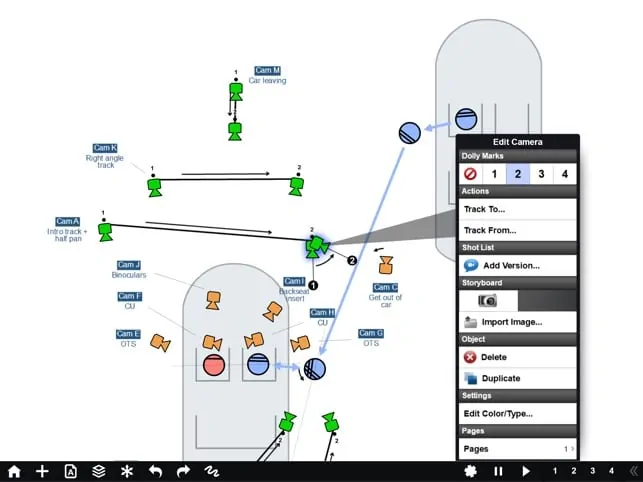 BEST APPS FOR CINEMATOGRAPHERS
FiLMiC Pro is an incredibly advanced film production app for iOS and Androids that enables you to make the most out of your device, virtually turning it into a professional camera. This app gives you fine-tuned control over your phone's camera, including manually changing the exposure, ISO, shutter speed, focus, zoom, and more.
In addition to unlocking the full potential of your phone's camera settings, FiLMiC Pro has many customizable options including the ability to record up to a dozen different resolutions and aspect ratios, advanced audio recording features, four encoding options to balance between quality and file size, video sharing capabilities through apps such as Facebook, DropBox, Vimeo, and 3rd Party Hardware Support for several popular lens adapters and gimbals.
And, FiLMiC Pro has the ability to adjust video settings (exposure, contrast, saturation, tint, color temperature) after capture. We've even used it to film some of our videos.
Price: $14.99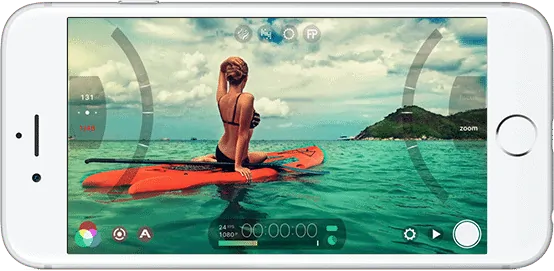 BEST APPS FOR CINEMATOGRAPHERS
Shot Lister is the professional shot list and scheduling app that is self-dubbed "a better way to make your day." No more crumbled piece of paper with all of your scribbled plans and touch the digital future of shot listing.
Shot Lister is designed by filmmakers to deliver the only solution that can build, organize, schedule and share shot lists and shooting schedules digitally. Tap and drag to reorganize your day in seconds. Organize and store hundreds of scenes and thousands of shots with industry standard formatting.
Everything is fully customizable and live-editing allows you to reschedule on the go.
Price: Free
BEST APPS FOR CINEMATOGRAPHERS
Artemis is the first digital viewfinder for smartphones. Over the years it has become an indispensable tool for professional filmmakers used by Oscar winners and film students across the world.
Artemis allows you to input your camera specific sensor, choose your lenses, and see your true field of view, right on your phone screen. In 2018, Artemis was awarded an Emmy for its contribution to filmmaking.
Price: $29.99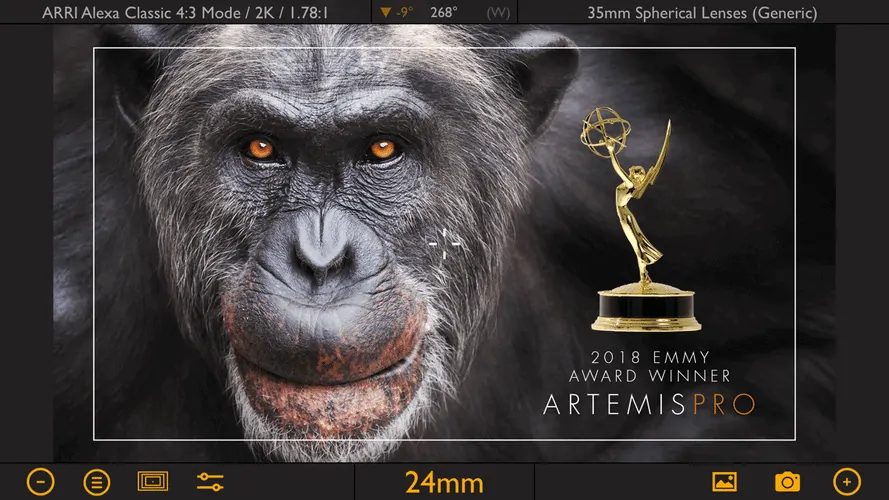 BEST APPS FOR CINEMATOGRAPHERS
Helios Pro is a light-tracking app designed for cinematographers, photographers, and designers. Not only can you pinpoint the position of the sun, the moon, and stars, Augmented Reality and light simulation allows you to visualize exactly what shots will look like at any location, at any time of the year or day. You can see precisely how light will illuminate and the shadows fall.
Price: $14.99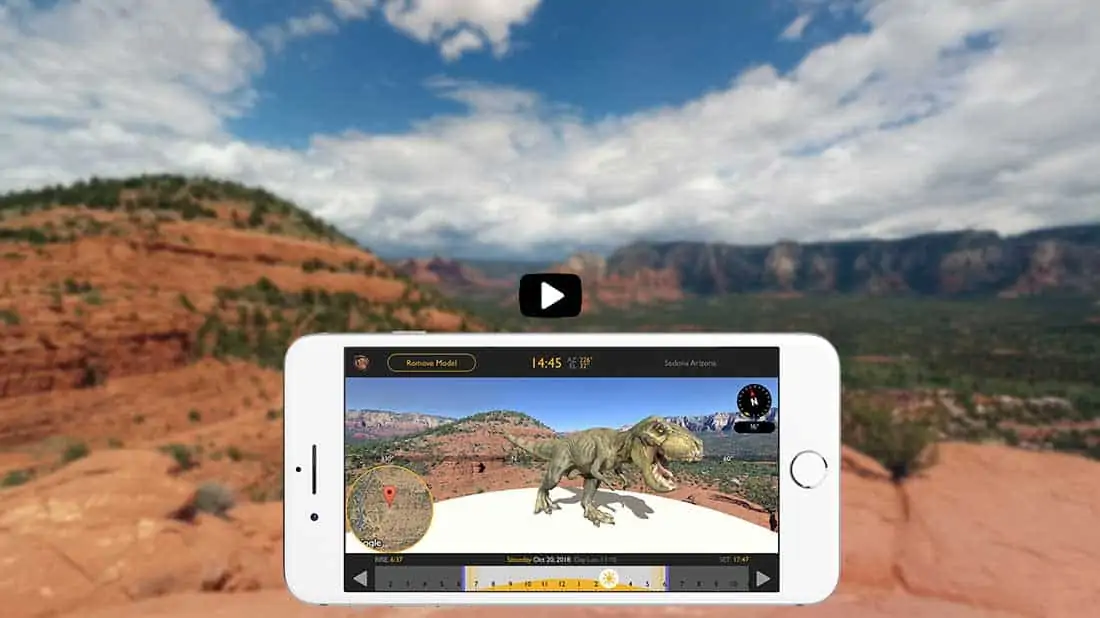 BEST APPS FOR CINEMATOGRAPHERS
Frame.io is a collaborative space for filmmakers and clients to work together and give feedback. No more email chains with vague time stamps. Frame.io offers time based comments and video annotations so you can draw directly on video frames to accurately communicate your feedback. Likewise video transcoding in the cloud allows you to upload any video format and never worry about playback compatibility.
Frame.io also features version control so you can see all of your past versions of projects and Comment Replay, which loops a 4 second range around any comment so you can get a sense of what it means in context.
Price: Free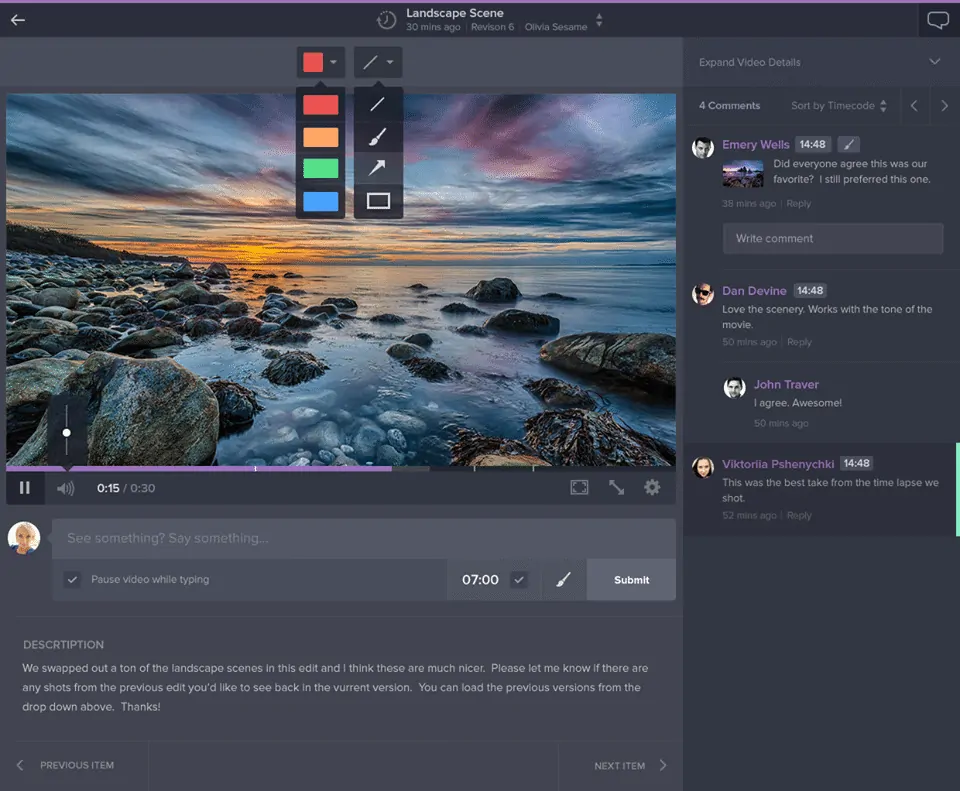 BEST APPS FOR CINEMATOGRAPHERS
Loved by creative professionals and aspiring artists alike, Procreate has also found a home on the iPads of cinematographers.
Offering hundreds of handmade brushes, a suite of innovative artistic tools, an advanced layer system, and the lightning fast Valkyrie graphics engine, Procreate gives you everything you need to create sketches, storyboards, or diagrams. Work on the couch, on the train, at the beach, or while waiting in line for coffee. It's a complete art studio you can take anywhere; packed with powerful features.
Price: $9.99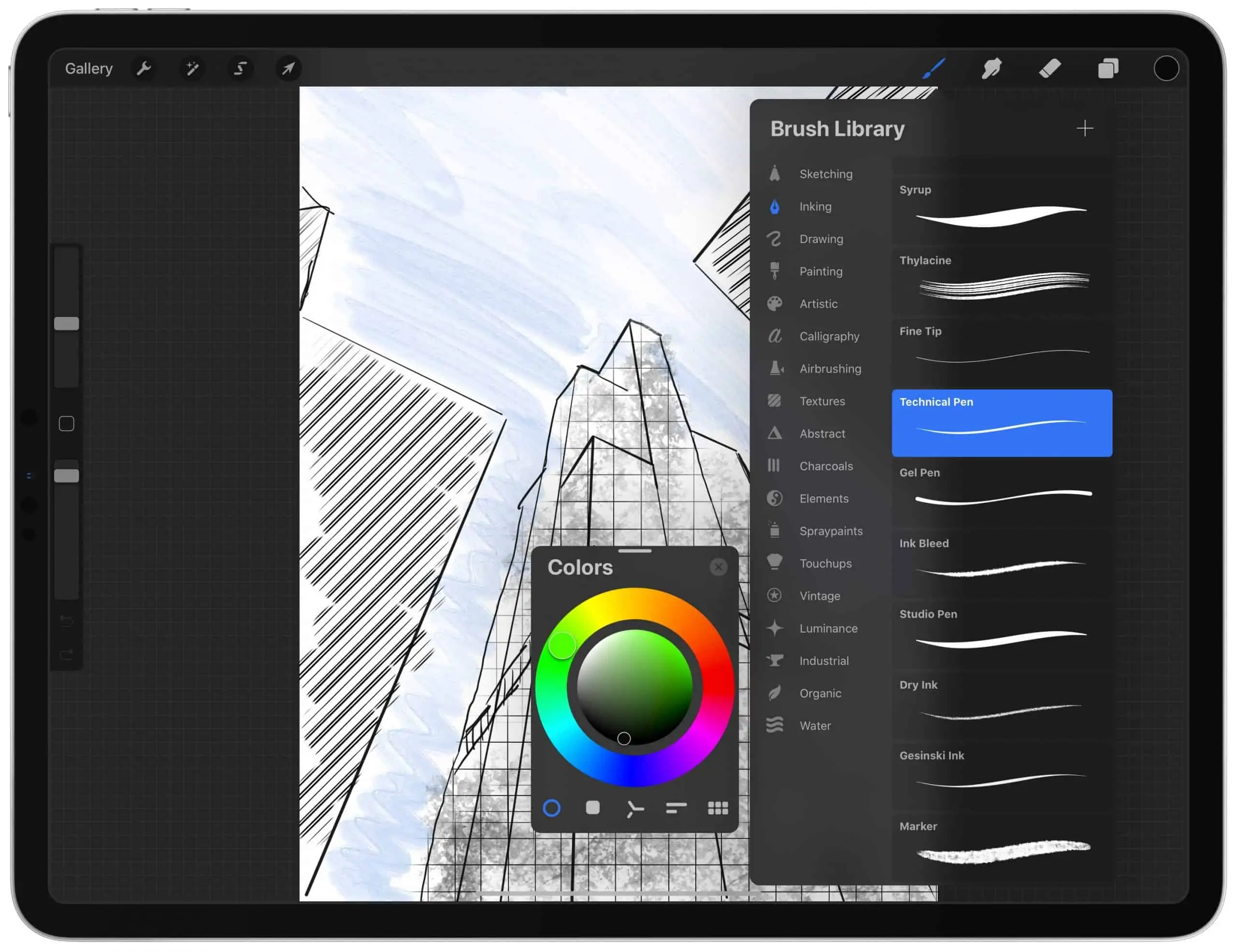 BEST APPS FOR CINEMATOGRAPHERS
We can safely say StoryBoard Artist is the most in-depth storyboard software out there. Perfect for preproduction, StoryBoard Artist is an advanced previz software, which gives film and video professionals an elaborate way to create professional digital storyboards and animatics. Sketch things out or insert location photos to create elaborate 2D and 3D models. Drop in a 3D figure, give them props, and animate them to get a realistic view of what scenes will look like before you even step on set. You can even add in sound or FX.
Price: $269.99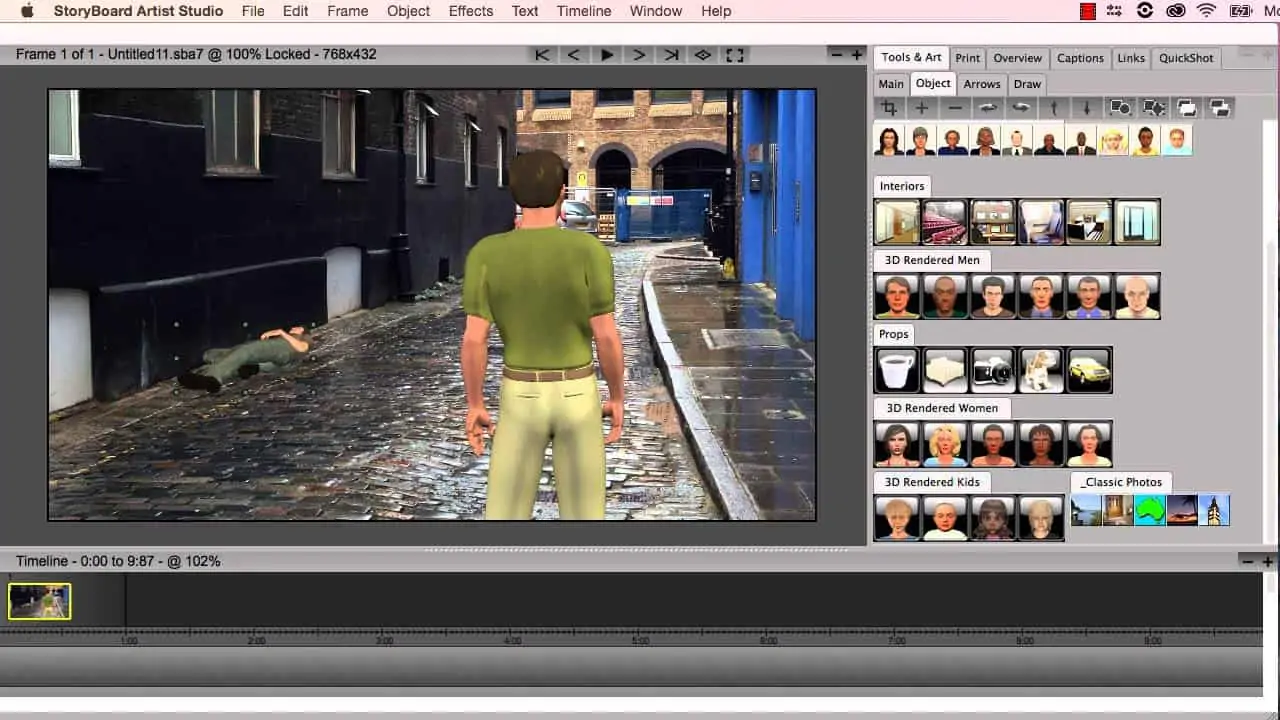 BEST APPS FOR CINEMATOGRAPHERS
Sun Seeker is a comprehensive solar tracking and compass app that can show you the sun's hourly direction intervals, its equinox, winter/summer solstice paths, sunrise/sunset times, twilight, sun shadow, golden hour, and more. Sun Seeker has both a flat compass view and a 3D Augmented Reality view to show the solar position and path. Perfect for calculating where the sun will be when shooting outside. The app allows you to add sun-event notifications and even has a widget showing the day's solar data.
Price: $9.99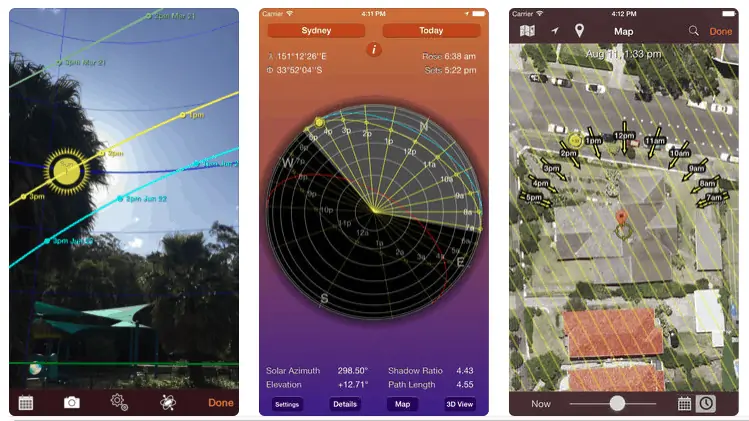 BEST APPS FOR CINEMATOGRAPHERS
Cine Meter II is a professional photography, video, and film app for iOS, using the built-in camera to provide a shutter-priority reflected light meter, an RGB waveform monitor, and a false-color picture mode. Cine Meter II measures light and color, so you can light and shoot and know what you'll get.

Price: $24.99